Sash window hardware plays a very important part in the overall finish of a sliding sash window. Most importantly the correctly fitted sash window hardware leaves the sash window fully secure and looking elegant. Sash window hardware comes in many different finishes the most commonly used finishes are:-
Chrome - Satin Chrome - Satin Nickel - Polished Brass - Antique Brass
Sash Fasteners
These are the catches located to the centre of the sash window meeting rails (middle rails). Not only do they secure the sash window centre, catches or sash fasteners, lock and pull the two meeting rails together closing the gap and reducing draughts as the meeting rails are always a big culprit for letting in draughts. A new sash window fastener along with our sash window renovation service is a great way of permanently combating and eliminating draughts to sliding box sash windows.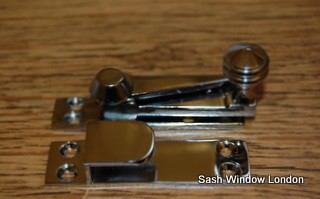 Sash Window Security Bolts
The most important security feature for a box sash window and the most common type of sash window security bolt we use are Sash Stops.
Sash stops have two settings. Two threaded insert screws which have a diameter of 10mm are fixed into both sash styles normally about 100mm apart. The first lower setting secures the sash window so it cannot be opened providing security against illegal entry into a property and also preventing small children climbing or falling out of the sash window.
The second setting allows the sashes to open and pass each other to a certain point which then allows ventilation. Researchers at the Imperial College of London found that by opening the top and bottom sashes of a sash window the ultimate cooling affect was achieved by allowing the warm air to escape through the open top sash and the cool air to filter through the open bottom sash.
Sash Lifts
Sash lifts and sash pulls help with the functionality of the opening and closing of the bottom sash. It is especially important to fit sash lifts when the bottom sash does not have horns as the constant opening of the bottom sash by pushing up the bottom meeting rail weakens the bridle joint of the meeting rail. Fitting sash lifts or sash pulls to the bottom rail relieves the stress put on the bottom meeting rail of the sash window.
Sash Handles
Fitting sash handles to a top sash gives a perfect solution for opening and closing the top sash of a box sash window. Fitting sash handles to the left and right underside of the meeting rail reduces wobbles and shakes to the sash making the opening and closing of the top sash easier.
The opening and closing of top sashes without sash handles has to be done by gripping onto the timber of the meeting rail and the putty glazing line which can be dangerous as your hand can get trapped when passing the bottom rail of the bottom sash. In addition to this you dont have to lean out of the window to grab onto the meeting rail which can also be very dangerous.