Even if your sash windows look as though they are beyond repair, most cases reveal only a very small percentage of the timber is actually decayed and using the right sash window repair method your sash windows can be repaired back to their former glory.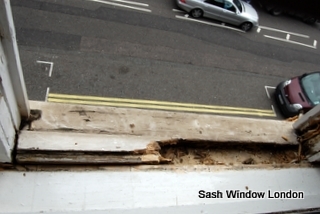 The most common cause of decay is water penetration. In a high percentage of cases that we have dealt with over the years, water penetration has often been caused by one or more of the five common problems listed below.
Failing of the exterior paintwork to the sashes and box frame.
Holes drilled into the window sills for cables.
Gaps between the window sill and the stone threshold.
Failing of linseed oil putty allowing rain water to sit on the glazing rebate to the sash, normally to the bottom rail and top meeting rail as water runs down the glass.
Failing of the perimeter pointing allowing water to build up and decay timber members inside the reveals of your sash windows.
All of which are very easily rectified.
We specialise in sash window repair and use the Window Care System which is a 4 part epoxy resin system. With our knowledge of sash windows we give our customers the best possible solution of repair to their sliding sash windows.